It is a surgical procedure designed to flatten a protruding abdomen by tightening the muscles in the abdominal wall while removing excess fatty tissue and skin. It is usually required in a situation of post-pregnancy changes or after massive weight loss. The procedure underwent many improvements over the years. Ideal shape is achieved by performing either a mini-abdominoplasty or so called lateral tension abdominoplasty. Most of the time it is combined with ultrasonic liposuction.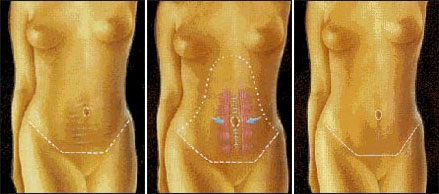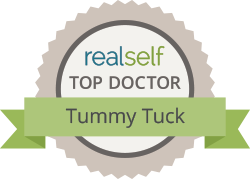 Tummy tuck FAQ
Who is a candidate?
A protuberant abdomen can be the result of excess fat, weak abdominal muscles, pregnancy or loose skin that has been over-stretched and no longer responds to diet and exercise. Also, for those who have experienced a massive weight loss, their only alternative to loose overhanging skin is surgery. The procedure is very common and can benefit both men and women. Frequently, it can be combined with other surgeries such as breast augmentation, liposuction or hysterectomy. Dr. Turowski will gladly work with patient's gynecologist to arrange for a combined hysterectomy/abdominoplasty procedure.
How is abdominoplasty performed?
The procedure is usually performed under general anesthesia to provide not only complete pain relief but also relaxation of abdominal wall necessary for optimal muscle tightening. Various surgical techniques can be used, depending on your goals and your specific problem. In some cases, a mini-abdominoplasty (combination of liposuction, muscle tightening and below the navel skin removal) may suffice. For those with severe laxity of abdominal muscles or excessive skin, a full tummy tuck may be the best solution.
During abdominoplasty an incision is made in your bikini area and after liposuction, excess amount of skin is removed and muscles are tightened with permanent sutures. In mini-abdominoplasty, no incision is made around the navel. The incision is closed right above pubic hair area resulting in low lying, transverse scar.
What is the typical recovery?
The procedure is usually performed on an outpatient basis although some patients prefer to stay overnight in the hospital. Any pain or discomfort that follows surgery can be controlled with oral medications. To avoid fluid build up the drains are placed during surgery. They remain in place for a few days until discharged fluids decrease. During your recovery you must refrain from any strenuous activity or heavy lifting for about 4 to 6 weeks. Most patients return to work after about one week.
Tummy tuck (abdominoplasty) Chicago – Testimonials
Patient Reviews & Recommendations