Occasionally, the size of a man's breast is larger than desired. If you are self-conscious about the appearance of your breasts, various procedures have been designed to correct this imperfection. Most contemporary procedures involve ultrasonic liposuction for shape correction. Utilizing this advanced liposuction technique helps avoid unsightly scarring from surgical excisions.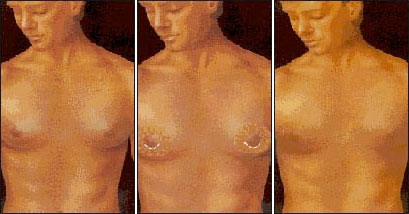 Male breast reduction FAQ
What is gynecomastia?
This is a medical name for the enlarged male breasts (from Greek language "woman-like breasts"). Sometimes it may be associated with male/female hormonal imbalances. In most cases, however, it is a common, benign condition consisting of breast fibrous tissue enlargement and extra fat deposition.
Who is a candidate?
Anyone who is in good general health is a good candidate. There is no age limit, although, patients with elastic, firm skin have the best chance to avoid skin excisions. Although temporary breast enlargement is common in teenage males, prolonged enlargement may lead to significant emotional distress. Therefore, correction of gynecomastia may be indicated in this age group.
How is male breast reduction performed?
The recent development of ultrasonic liposuction almost entirely eliminated the need for skin excision in cases of male breast enlargement and thus the creation of unsightly scars typical for surgical breast excisions. Excess amount of breast tissue and fat is removed through minute, well hidden incisions, allowing the skin envelope to conform to the new shape of breasts. The nipples are preserved. In some extreme cases skin excision might need to be performed but is then usually limited to circular, non-conspicuous incision around the nipple. The procedure can be performed under general anesthesia or IV sedation.
What is the typical recovery?
Correction of gynecomastia is typically an outpatient procedure (patient returns home after he is recovered from anesthesia). However, to accommodate some patients' needs an overnight stay and nursing support can be arranged. After the procedure, the patient is placed in an elastic, compressive, spandex-like garment. The garment can be removed after 3 days, when the routine activities can be resumed. The garment should be worn for two weeks after the procedure. The garment is non-conspicuous and easily hidden under regular clothes. There is usually minimal discomfort in the first couple days after the procedure, well controlled with oral medications. Sports and exercises can be resumed within few weeks.