Palomar Icon Aesthetic System
The Palomar Icon™ Aesthetic System is the next generation of platform technology, with high peak powers, state of the art cooling, built in calibration, and the Skintel™ reader – the only FDA-cleared melanin reader. The Palomar Icon system provides fast treatments with excellent outcomes and user experience.
Palomar Icon, the Dawn of a New Era in Laser and Optimized Light Technology
The high-powered Palomar Icon system provides the most-requested aesthetic treatments, with Palomar's many patented innovations.
The Skintel™ Melanin Reader:™ A revolutionary device that provides an additional element of treatment confidence by determining the average melanin density of skin, in a quantitative manner, prior to treatment.
Power: Delivering a maximum effective energy of over 350 joules – the Palomar Icon is the most powerful laser and optimized light aesthetic platform2.
Advanced Contact CoolingSM: Cooling maintains temperature at 5 degrees Celsius during treatments for enhanced comfort and skin protection. Adjustable cooling technology keeps epidermal temperature lower to reduce treatment discomfort and minimize skin damage.
Hexagonal XFTM Microlens: High speed non-ablative fractional resurfacing with increased surface coverage typically allows for a full face, one pass treatment in less than 15 minutes.
Intuitive User Interface: Enhanced user interface features new treatment tracking technology for more streamlined procedures.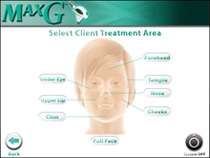 Calibration:New external calibration for optimal pulsed light performance
AccuSpectrumSM: Dual filters minimize unnecessary epidermal exposure, enhancing client comfort

Photon RecyclingSM: Maximizes treatment results by reducing energy loss
Smooth PulseSM: Proprietary light delivery system that allows for the usage of greater amounts of energy
Intense Pulse Light (ipl) – FAQ
What is Intense Pulse Light photo rejuvenation?
It is a cosmetic treatment that uses gentle pulses of intense, optimized light to treat undesirable pigment and vessels which can occur as a result of aging and lifestyle choices.
What type of results can I expect?
You can expect to see a decrease in the appearance of skin pigment and vessels for a more even skin tone.
How does it work?
Photo rejuvenation uses an optimized light device to deliver energy into your skin, targeting vascular and pigmented lesions, which slowly disappear as your body's natural healing process progresses.
How long does it take?
The photo rejuvenation procedure can be performed in as little as 30 minutes, depending on the size of the treatment area.
How many treatments will I need?
You can see some improvement immediately. Only one or two treatments may be needed; depending on the severity of your condition, several treatments may be necessary to achieve your best results. *
Does it hurt?
Most of the people feel little to no discomfort during the procedure.
How quickly will I recover?
You can resume regular daily activities right away and start to see some improvement immediately.
What can I expect following the treatment?
Typically, most people experience a mild, sunburn-like sensation, possibly accompanied by some minor swelling, immediately following the treatment. This may usually lasts two to 24 hours.
*Individual results may vary and there are no guarantees that you will experience the same results as those mentioned here.