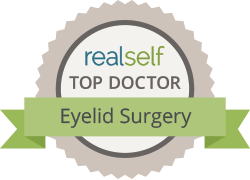 Blepharoplasty: An Unsung Hero of Cosmetic Surgery
Eyelid Lift Surgery, also known as blepharoplasty is the procedure designed to eliminate a "baggy" appearance beneath the eyes and to remove heaviness from the upper eyelid.
The term blepharoplasty is derived from the Greek work blepharo meaning "eyelid" and plastikos which means "fit for molding".
When you look in the mirror, do your eyes look tired? Do you have "bags" under your eyes due to aging or genetics? Do your eyes appear puffy, even though there's no reason for it, such as crying or lack of sleep? These are just a few of the reasons you might want to consider talking to Dr. Turowski about eyelid surgery here at his Chicago Cosmetic Surgery Center.

Other reasons to consider getting eyelid surgery are:
Removing excess fatty deposits in the upper eyelids
Sagging skin that creates folds on the upper eyelid, sometimes impairing vision
Excess skin or fine wrinkles of the lower eyelid
Droopy lower eyelids showing the white below the iris
Having eyelid surgery can change the entire look of your face, giving it a rejuvenated and more rested appearance.
Your eyelid surgery can be done in an outpatient setting here in Chicago at New Horizon's Center for Cosmetic Surgery either under sedation anesthesia or local anesthesia.
Once the anesthesia has taken effect Dr. Turowski will commence the blepharoplasty.
​For the upper eyelid correction Dr. Turowski make​s​ an incision in the crease in the upper lid going out toward the temples. ​In some cases excess amount of fat is judiciously resected​ in order to correct fullness but not to create a hollow look
When working on the lower lid ​Dr Turowski prefers the latest combination procedure of transconjunctival and open approach. The incision is ​ actually first made inside the eyelid to access fat pocket. Then some of the fat is removed and some transferred below the orbital margin to fill up so call tear through deformity. After that portion is completed another incision is ​ made along the lash line, also toward the temples. ​This incision allows for skin tightening. So, although it appears that 2 incisions have to be performed in this approach rather than only outside eyelid incision, this approach is much safer to avoid serious complications of eyelid malposition. ​
Once the incisions are healed, the patient's lashes hide any slight scar lines.
​In some cases another type of procedure used in eyelid lift surgery is the transconjunctival ​only ​approach. With this blepharoplasty technique, used for lower eyelid surgery, an incision is made ​only ​on the inside of the lower lid. Fat is then removed​ and redraped ​ through this incision thereby allowing the skin to reshape and tighten.​ This procedure works only on a younger patients with excellent skin elasticity. ​
Laser resurfacing is a nonsurgical cosmetic surgery technique sometimes used by Dr. Turowski to delay the need for a blepharoplasty. It can also be performed at the same time as traditional eyelid lift surgery
​ to correct fine wrinkles and remove blemishes​
Recovery
As with any other surgery, it's important to fully understand the recovery process before the procedure is begun. Knowing what to do and what not to do after eyelid lift surgery will speed your recovery. Below are a few suggestions. Dr. Turowski or one of the nursing staff at the Chicago ​New Horizons ​Cosmetic Surgery center will give you your own personal instruction.
Always use sun protection for your eyes until the healing process is fully completed. Wear dark glasses when you are out in the sun.
Keep your head elevated, even during sleep, for the first several days following surgery.
Drink plenty of fluids and eat lightly in the days following your surgery.
Get plenty of rest.
Do not wear contact lenses until your surgeon says it's okay.
Avoid bending or lifting for two weeks after your eyelid lift procedure.
Do not drive until you are pain-free and your vision is back to normal.
Check with your surgeon before resuming your usual exercise routine.
If you have any questions about what you should or should not do during your recovery period, ask your surgeon.
If you're thinking about getting eyelid surgery, the best thing to do is to come New Horizon's Center for Cosmetic Surgery here in Chicago and have a
​personal ​consultation with Dr. Turowski.
We look forward to seeing you here at New Horizon's Center for Cosmetic Surgery.


Eyelid lift surgery (Blepharoplasty) FAQ
Who is a good candidate for Blepharoplasty?
As we age our eyelids droop, making us look tired and older. However, this procedure can also be performed for younger patients who are dissatisfied with hereditary heaviness of the lower or upper eyelids or "bags".
Is the procedure safe?
Blepharoplasty is a very safe procedure when performed by appropriately trained plastic surgeon. Although serious complications have occasionally been reported, these are extremely rare, considering that this is one of the most common cosmetic procedures performed in the USA.
Do I need a procedure on the upper, lower eyelids or both?
This can only be determined after personal consultation with Dr Turowski. Although these are two distinctive operations, they are frequently performed together to achieve the best results. For younger patients removal of the lower eyelid bags may be all that is needed.
The procedure is frequently combined with endoscopic forehead/brow lift to achieve optimal results. In addition, blepharoplasty is often performed together with face lift for overall facial rejuvenation.
How is blepharoplasty performed?
This procedure can be performed under intravenous sedation or even local anesthesia. It is usually performed on the outpatient basis, with the patients going home soon after the surgery. Upper eyelid incision is placed in the skin crease and excess amount of skin and bulging fat is excised. In certain cases, lower eyelid blepharoplasty can be performed without visible incisions (transconjunctival blepharoplasty). Laser may be used to achieve optimal results. If there is obvious skin excess in lower eyelids, the incision may be made directly under the eyelash line. The excess amount of fat and skin is removed, skin re-draped and incision carefully closed. Eyelid incisions heal in very inconspicuous fashion.
What is the typical recovery?
Postoperative discomfort is usually very mild and easily controlled with oral pain medications. It is recommended to use ice-packs for the first 24 hours after surgery to minimize swelling and bruising. The sutures are removed after 5 days, and with some makeup patient can return to certain activities. Some bruising may persist for about 10 days. No suture removal is necessary for transconjunctival blepharoplasties.


In young patients eyelid lift procedure can be pretty successful restoring youthfull and rested appearance to that region of the face in otherwise very young looking faces. It is a combination of fat removal and fat transfer.