Recent FUE technological advances have truly broadened the options available for patients interested in hair transplantation, especially men. Popular new procedures now include hair restoration of the beard, goatee and sideburns. These transplants are usually done for men who have genetic predispositions to having thin or nearly absent facial hair. Men may also have suffered facial hair loss from trauma to the face, which caused scarring or previous procedures such as cleft lip surgery, or a facelift that resulted in stunted hair growth.
The donor area for facial hair transplantation is usually the back and/or the sides of the head, depending on which hair is the closest match in texture and color. A common fear of patients is how natural the results will look and smooth their facial skin will be post shaving transplanted hair. These issues are prevented when FUE grafts are properly harvested by ARTAS robot or Neograft and placed at the correct angles at recipient sites, being careful to only transplant small sections at a time.
The facial hair transplantation procedure is very similar to the process used for other hair transplants. First, follicular units ae harvested uing FUE techniques from the back or side of the head. The harvesting of FU grafts from the scalp takes a couple of hours and the patient lies face down during the hair extraction. These harvested hairs are next planted at the recipient site. Any existing hairs at the recipient site, even very thin "peach fuzz," can be incredibly helpful in guiding transplantation and ensure grafts are placed at the correct angle of facial hair growth. The immediate post-procedure results are basically equivalent to what a beard would look like after three days of no shaving. This allows patients to instantly evaluate the success of transplantation.
The most common complaint of facial hair transplant patients is that transplanted hair sticks out and away from the face rather than remaining flat against the skin. If this occurs, it is usually only in the mustache area because protruding lips and the mobility of the skin make correctly angled hair insertion difficult at this site. If there are any transplantation problems, hair is discarded or replanted to fix any misalignments. Any prolonged redness usually disappears after about two weeks, and often times much sooner. Shaving is permitted by the eighth day post procedure. Occasionally, patients receive touch up transplants, but most are happy after just one procedure.
Facial Hair Transplant – Before and After Pictures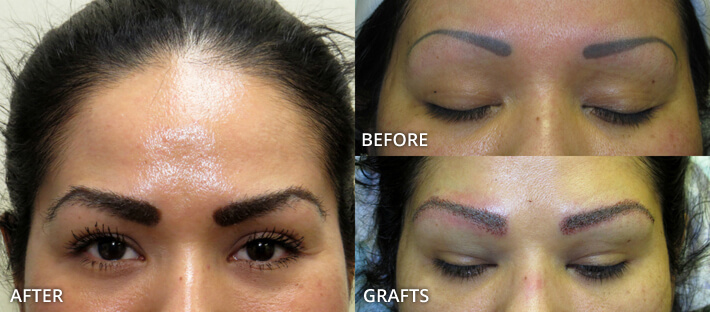 Case description:
Eyebrow restoration

Case description:
ARTAS moustache reconstruction
Case description:
Facial hair transplant for the creation of an attractive beard/moustache coverage.
Case description:
Eyebrow restoration
Zapisz
*Individual results may vary and there are no guarantees that you will experience the same results as those mentioned here.