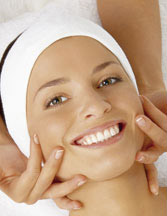 Medical Spa skin care treatment technology allows for providing our patients with noninvasive alternatives – delivered through the use of the finest products and equipment, all clinically proven to bring tangible results. At Medical Spa every treatment takes advantage of the latest advances in therapeutic skin care to produce great results without the downtime of invasive plastic surgery. Of course, even though these treatments do not answer all patient's skin and body improvement needs, they should be considered first. This is why the consultation with Horizon's professionals should be a first step in building our relationship. Once decided as a best alternative, we believe that each patient can and should expect to receive outstanding cosmetic improvements in a warm and relaxed setting with no interruption to their busy lifestyle.
In an environment designed to nurture your skin, body and spirit, you will experience personalized services performed by excellently skilled medically supervised professionals. We are committed to making a difference by delivering satisfying aesthetic enhancement with our medical-level treatments, as well as unparalleled pampering and relaxation.
The following are the available Medical Spa skin care treatments.
Hydradermie (Star Treatment) – #1 Treatment for acne and rosacea!
A combination of advanced scientific technology and the skills of a highly trained clinical aesthetician Aggie, together produce the ultimate in treatments, the Hydradermie Facial.
Recognizing the skin as a living organ, this facial was developed to help it live and age better. This unique treatment incorporates the use of mild galvanic currents, nourishing gels and massage for total rejuvenation of the complexion.
Properties and Benefits of the Hydradermie Treatment w/ Hydra Plus Ionization has the following effects:
Deep Cleansing
Penetration of active skincare ingredients
Hydration of the epidermis
Oxygenation / purification (Oxygenating Emulsion Oz2 w/ essential oils)

Improves microcirculation – essential oils create hyperemia, which improves intercellular exchanges, thereby increasing tissue oxygenation and toxin elimination, reducing stress.
Introduces antiseptic and bactericide action:
Another effect of essential oils combined with the oxygen found in oxygenating emulsion is microbial oxidation, and thus, a purification of the skin.
Beaute Neuve (Gentle Fruit Acid Enzyme Peel)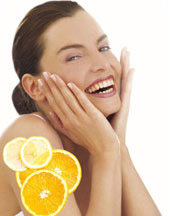 Beaute Neuve facial treatment combines medical research with skincare expertise to create a professional skin renewing treatment which can be used on all skin types, including those very sensitive.
Beaute Neuve goes the next step in high tech treatment techniques through the use of developed skin utilizing fruit acids with enzymacids which in combination create a peeling effect. A four-part program of approximately 45 minutes to 1 hour in duration, this unique facial treatment is designed to remove or minimize imperfections and bring the skin back to a renewed beauty and luminosity.
A radiant glowing complexion is proof of the efficacy of the Beaute Neuve treatment, with three treatments at one week intervals recommended to insure elimination of all skin imperfections.
Liftosome
The Liftosome Facial treatment is best suited for mature skins, and aims to energize, tighten and firm using Vitamin C to brighten the skin. Liftosome relaxes features, smoothes away fine lines and adds a luminous glow to the complexion. *
Since both age and fatigue encourage sagging skin and a diminution of firmness caused by a combination of factors including a decrease in cellular cohesion and activity, diminution of elastic fiber synthesis, the effects of free radicals and UVA rays and poor oxygenation of the skin's cells, this facial has been directly targeted to repair the damage. Designed as more than merely a "lifting" treatment, the LIFTOSOME FACIAL acts on two levels – vertically for a firming action and horizontally to tighten the skin. Visually its effects are immediate with skin visibly enhanced at its conclusion.
Tres Homme (Men's facial)
The Tres Homme Facial utilizes high grade skincare products formulated specifically for a man's skin and lifestyle. Intended to rid the skin of blackheads, ingrown hairs and roughness, the Tres Homme facial has been tremendously successful at treating the most common male skin conditions, and is appropriate to treat all skin types. *
*Individual results may vary and there are no guarantees that you will experience the same results as those mentioned here.